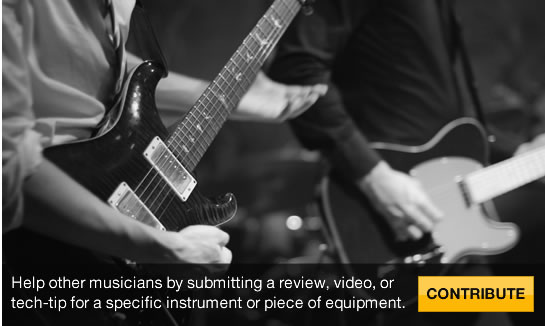 Hands-on review: ZVEX Effects Fuzz Probe
2012-02-24
The 'fuzz' needs only sparse introduction, rearing its beautiful head when the American pedal steel guitarist Orville 'Red' Rhodes (1930-1995) fell upon the sound by accident when a faulty recording console preamplifier circuit produced an unusual (for the time) fuzzy sound from Grady Martin's guitar during the recording of Marty Robbins' 1961 song "Don't Worry."
Based on the sound he heard, Rhodes developed the first fuzz box that resulted from the console's problem, which really wasn't a problem since Rhodes recognized the potential of such an unusual tone. Musicians, including The Ventures, began inquiring about the 'new' sound and Rhodes offered a fuzz box he made to the group, which they used to record 2000 Pound Bee in 1962.
Hands-on review: Pritchard Black Dagger guitar amp
2012-01-25

If you were to ask an experienced guitarist whether s/he prefers tube amps or solid state amps, I suspect 99% of the time you will hear not only a preference for tube amps (and bickering over 6V6 vs. EL84 tubes), but whether it be Fender, Marshall, Vox or some other name brand. You may also get a snicker of "How dare you compare the warmth and liveliness of a tube amp to solid state circuitry." Early solid-states did not help matters, and today most of such amps are manufactured to help establish a price niche, rather than cater to elite musicians.
---
Pro reviews
ADAM F5 Review
by Audiofanzine on 2013-05-01

Over the last years, ADAM has become a house name in the studio monitor market. The brand itself has become the symbol of ribbon tweeters.
---
TC-Helicon Harmony Singer test
by Audiofanzine on 2013-04-14

More than half of the guitarists in this world sing. Based on this survey, TC-Helicon designed the Harmony Singer, a compact pedal with reverb and 2 voice harmonies based on guitar chords.
---
Moog Sub Phatty Test
by Audiofanzine on 2013-04-07

First showcased at the NAMM show in the beginning of this year, the Sub Phatty places a maximum number of commands in the hands of its user while, at the same time, reducing the overall footprint.
---
Native Instruments Battery 4 review
by Audiofanzine on 2013-04-06

With version 4 of its ?drum sampler? included in both editions of Komplete 9 and available separately, what does Native Instruments propose to do ? Answers below.
---
Most Recent Reader Reviews
DigiTech Bad Monkey
by Fireguy8402 on 2011-11-19

Overall I wouldn?t call this a great overdrive, but I would call it a great overdrive for the price and just an OK overdrive at any price.
---
DigiTech Bad Monkey
by mooseherman on 2010-02-10

I definitely was a little disappointed in how little transparency there was on this pedal, but after awhile I came around and recognized that it's pretty good in its own right.
---
AKG K 240 MK II
by songboy on 2009-01-21

I have been using the AKG K 240 mk ll's for 4 months. What I like most about these headphones is how great they sound.
---
Numark MP103USB
by JimboSpins on 2013-03-21

The Numark MP103 is a professional USB CD player that can be racked. The price of this rackable unit is very reasonable considering some of the similar models that have the same specs cost about 25...
---
Welcome to MGR!
Music Gear Review is your source for musical instrument and gear reviews! Covering electric guitars, acoustic guitars, recording equipment, basses, drums, keyboards, software, microphones, mixers, bass guitars, DJ equipment, Karaoke and more! There are thousands of equipment reviews submitted by real musicians to help you research before you buy or make a purchase. Help us become the largest source for quality consumer gear reviews and information - submit your review or join a discussion in the forums today!
---