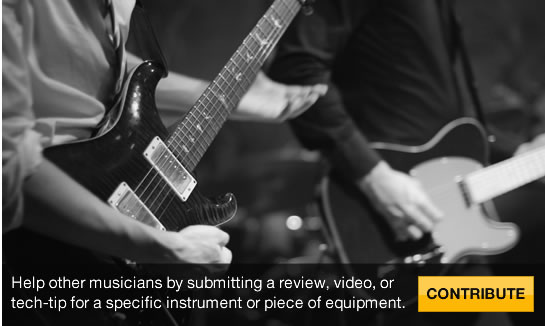 Hands-on review: ZVEX Effects Fuzz Probe
2012-02-24
The 'fuzz' needs only sparse introduction, rearing its beautiful head when the American pedal steel guitarist Orville 'Red' Rhodes (1930-1995) fell upon the sound by accident when a faulty recording console preamplifier circuit produced an unusual (for the time) fuzzy sound from Grady Martin's guitar during the recording of Marty Robbins' 1961 song "Don't Worry."
Based on the sound he heard, Rhodes developed the first fuzz box that resulted from the console's problem, which really wasn't a problem since Rhodes recognized the potential of such an unusual tone. Musicians, including The Ventures, began inquiring about the 'new' sound and Rhodes offered a fuzz box he made to the group, which they used to record 2000 Pound Bee in 1962.
Hands-on review: Pritchard Black Dagger guitar amp
2012-01-25

If you were to ask an experienced guitarist whether s/he prefers tube amps or solid state amps, I suspect 99% of the time you will hear not only a preference for tube amps (and bickering over 6V6 vs. EL84 tubes), but whether it be Fender, Marshall, Vox or some other name brand. You may also get a snicker of "How dare you compare the warmth and liveliness of a tube amp to solid state circuitry." Early solid-states did not help matters, and today most of such amps are manufactured to help establish a price niche, rather than cater to elite musicians.
---
Pro reviews
LiquidSonics Seventh Heaven Professional Review
by Audiofanzine on 2017-07-11

The second version of Reverberate, LiquidSonics' flagship product, completely blew us away with its Fusion-IR technology because it actually provided an unheard-of flexibility and audio quality in the small world of convolution reverbs. ..
---
Universal Audio Apollo Twin MKII Review
by Audiofanzine on 2017-02-08

Three years ago Universal Audio introduced the Apollo Twin, a more friendly priced desktop version of their Apollo flagship audio interface...
---
Dynaudio LYD 7 Review
by Audiofanzine on 2016-10-03

We are the first to brawl about the lack of innovation among speaker manufacturers. Dynaudio is one of those brands with an undeniable know-how, but whose road map only seems to lead into a desert where you can find a rock or a cactus from time to time...definitely not the best place to be for a thirsty home-studio owner.
---
EarMaster ApS Earmaster 6 Review
by Audiofanzine on 2016-09-26

EarMaster Aps is a small Danish company founded in 1994 specialized in the development of a very particular software: EarMaster, whose goal is to train your musical ear and reading skills...
---
Most Recent Reader Reviews
Warwick Sweet 15
by AlexanderBassSmith on 2018-01-03

I purchased this amp over 9 years ago. In that time I have used it as a practice and gigging amp.
---
Pignose G40V
by Hieroglyph on 2017-12-15

In 2007 I bought mine new/old stock (in UK) as my then also new Fender Bassman had to go back under warranty, In the cross-over between having them side by side, the Pig gave more of what I had hop...
---
Parker Deluxe
by timeofsilence on 2017-11-26

I bought my Fly Deluxe used at a Guitar Center in Arlington, TX. It had a huge scratch on it and was not in the best of shape.
---
Rode NT1-A
by Steve swain on 2017-11-03

I Have owned this mic for 10 months, its great, I Use this with a foam windshield and not the supplied "POP" filter,my radio broadcasts sound really professional its not quite a neuman but post br...
---
Welcome to MGR!
Music Gear Review is your source for musical instrument and gear reviews! Covering electric guitars, acoustic guitars, recording equipment, basses, drums, keyboards, software, microphones, mixers, bass guitars, DJ equipment, Karaoke and more! There are thousands of equipment reviews submitted by real musicians to help you research before you buy or make a purchase. Help us become the largest source for quality consumer gear reviews and information - submit your review or join a discussion in the forums today!
---