Alfred Music Publishing Congratulates 2010 DRUMMIES! Award Winners
(Press Release | Posted 2010-07-16)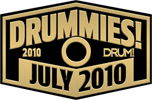 Alfred Music Publishing congratulates all the talented drummers listed throughout the 2010 DRUMMIES! awards, including five Alfred winners and nominees.
For the 2010 DRUMMIES!, the award for best drumming book, went to Virgil Donati's Double Bass Drum Freedom, with runners up Drummer's Guide to Odd Time Signatures by Rick Landwehr, The Master Drummer by John Riley, and On the Beaten Path: Metal by Rich Lackowski. In the Drumming DVD category, Buddy Rich Memorial Concert 2008 was also named as a runner up.
The DRUMMIES!, hosted by DRUM! magazine, is an annual contest in which readers can vote on their favorite drummers and percussionists, gear, and resources, including published books and DVDs. About 5,000 people are polled each year, and submit their responses online.
Double Bass Drum Freedom is the final word on double bass drumming! Much-lauded drummer Virgil Donati lays out everything he knows about playing double bass drums, shedding light on how to integrate the pedals with the drum kit. Considered to be at the avant-garde of double bass drumming, his lessons will not only develop outstanding speed and technique with the feet, but also help re-create the drummer's perception of music and allow them to reach rhythm freedom.
Drummer's Guide to Odd Time Signatures is the essential method to learn to play the odd time signatures used by countless popular musical artists. This practice of using odd time signatures dates back to the 1960s, with Dave Brubeck and The Beatles, and continued with artists like King Crimson, Rush, Sting, Metallica, Tool, and Radiohead. To many musicians, these meters are complex and mysterious, but nothing could be farther from the truth! The Drummer's Guide to Odd Time Signatures will take your drumming to the next level by helping you understand how to hear and feel these meters and to use them in a variety of musical situations and genres.
The Master Drummer is based on over 40 years of observing and studying the master players. Throughout this DVD, renowned player, author, and teacher John Riley defines and explores the four key musical components drummers must develop in order to play at the highest level. John's insightful approach will help any drummer grow, regardless of level or style, and will lead to positive results in the achievement of one's musical goals.
On the Beaten Path: Metal is the must-have guide for drummers that provides insight into the history and development of the metal genre, and explores a dozen legendary drummers that impacted that style the most. The book will lead you through the beats, licks, solos, and grooves that made each artist famous, with insight into their approaches, the gear they used, the bands they played in, and the drummers who influenced them. The easy-to-follow lessons delve into authentic transcriptions of 36 famous beats and solos from songs by Metallica, Slipknot, Meshuggah, Slayer, Pantera, Iron Maiden, Lamb of God, Shadows Fall, Anthrax, and others.
Buddy Rich Memorial Concert 2008 is a three-DVD set featuring Neil Peart, Chad Smith, Tommy Igoe, John Blackwell, Terry Bozzio with Efrain Toro, Nick Rich, Peter Erskine, Will Lee, and Jeff Berlin. These artists pay tribute to Buddy Rich, one of the greatest drummers of all time. With an all-star big band, they play not only Buddy classics but also their own hits. Over two hours of concert footage, plus almost two hours of rehearsal and backstage footage, memorialize this historic drumming event.
Alfred congratulates all the talented drummers recognized throughout this year's DRUMMIES! and is happy to be the home of an extensive percussion catalog, featuring the DRUMMIES! award winners and nominees Alex Acu'a, Kenny Aronoff, Dennis Chambers, Dom Famularo, Steve Gadd, David Garibaldi, Dave Grohl, Neil Peart, Mike Portnoy, Aaron Spears, Dave Weckl, and Zoro.
Visit alfred.com/drums for more information on Alfred's winning products and authors, and drummagazine.com/drummies for more information about the annual contest.
View exclusive trailers of featured Alfred drum DVDs by visiting youtube.com/alfredmusicdrums, and stay connected to all the latest Alfred drum and percussion news by following us on facebook.com/alfredmusicpublishing and twitter.com/alfredmusic.
ABOUT ALFRED MUSIC PUBLISHING

Alfred Music Publishing is the world's largest educational music publisher. Alfred produces educational, reference, pop & performance materials for teachers, students, professionals & hobbyists spanning every musical instrument, style & difficulty level. Alfred's home office is located in Los Angeles with domestic offices in Miami & New York as well as offices around the world including Australia, Germany, Singapore & the United Kingdom.
Since 1922, Alfred Music Publishing has been dedicated to helping people learn, teach & play music. Alfred currently has over 90,000 active titles. Alfred represents a wide range of well-known publications'from methods like, Alfred's Basic Guitar, Alfred's Basic Piano Library, Premier Piano Course, Sound Innovations & Suzuki, to artists like Led Zeppelin, The Rolling Stones, Bruce Springsteen, Van Halen, Green Day, Michael Jackson, Sheryl Crow, Eagles, Cole Porter & George and Ira Gershwin, to brands like Star Wars, Harry Potter, Lord of The Rings, Rolling Stone Magazine & Billboard.
In addition to its own titles, Alfred distributes products from over 50 companies, including Belwin, Daisy Rock Girl Guitars, Dover Publications, DW Drums, Faber Music, Highland/Etling, Kalmus, National Guitar Workshop, Penguin, TASCAM, Ultimate Support & WEA.